Castles with round towers
Most stone castles are surrounded by one or more rings of curtain walls. To defend these more easily, the castle builders added towers at intervals along the walls. Towers had several purposes.

Each was a miniature castle, which could be defended on its own in an emergency.
The height of the towers let the defenders see and shoot further.
The towers were built partly in front of the line of the wall, so that archers could see and shoot an enemy who got close to the base of the wall.

Round towers were hard to undermine or to batter down with catapults.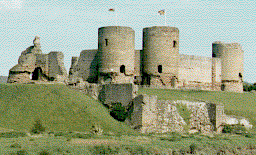 Rhuddlan Castle

Other examples :
Cilgerran | Conwy | Carew | Kidwelly | Chepstow
---
© Dial Solutions 2000