Oak Draw
Oak Draw is an object oriented vector drawing package for Windows 95 and above, designed to be used by children in schools but also to be powerful enough for professional users.
A new bit version has been developed to take advantage of the latest features in Windows operating systems, including anti-aliased line drawing.
Drawings can be saved in the new, w3c approved SVG format.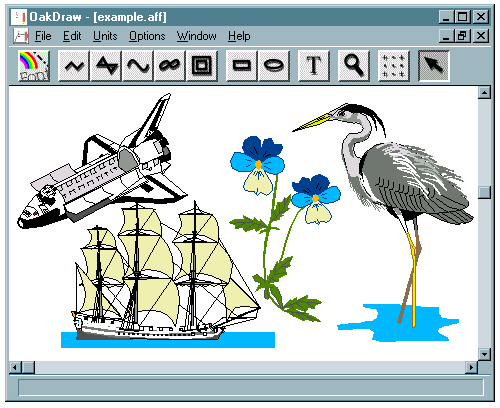 Features
Lines can be of any thickness
Line start and end points can be butt, round or triangular
Line joins can be rounded, mitred or bevelled
Objects can be of any colour available on your system
Powerful selection model allows groups of object to be built up and manipulated as single entries
Units can be inches, centimetres, millimetres or points
Paper sizes up to A0 supported in portrait or landscape orientation
Zoom facility to 800%
Compatible with Acorn drawfiles including those containing sprites
Includes hundreds of example drawfiles
Downloads and guides